As I sit in a really funky cafe in London trying to do study on Croatia, I cannot stop thinking about the chaos of the past two months!
However, whenever I get asked which destination surprised me the most, it is definitely Madrid!
I had been told many times before that Madrid is just the capital of Spain and there's not much else to it. Whoever told me that, was completely wrong!
Now, there isn't as much as the likes of say Barcelona, but some cities you just get a certain vibe from. It's hard to explain, there's just a certain feeling like you belong there. I got this in Madrid. It was such a hip, fast paced city! Even though I was in Madrid during the Easter long weekend, and when you're in such a Catholic country, I thought it would be quite quiet, however it wasn't! There was still quite a large handful of people out and about but there were so many cool things that we found!
Let's start with the night out!
I found the best area to hang around for a young, student vibe was Malasana! There were still a few bars that were closed when we were there but you could tell that there were so many options to choose from!
So if I haven't mentioned, I'm from the coast line of Australia, about a 10 minute drive from the beach. As much as when I'm home I don't go to the beach often, I do really miss the oceany smell and even the feel of sand under my feet! If you are anything like me, you will love Ojala bar in Malasana! Walking in to begin with, you are going to think I am a liar! However, if you head down stairs there is a sitting area with sand over the ground! The downstairs bit has more of a grundy vibe to it, however you can still feel the sand under the soles of your feet!
Drinks were about €6-€10 for a cocktail and a bit less for wines and beers. They also had some great food options for dinner and again at a reasonable price! I got two average sized tacos, a side of papas fritas and a glass of red wine for under €12!
A great place for traditional Tapas is El Tigre! There are a few different options around Madrid as it is a chain, however. . . you purchase a beer/sangria which is €5 and then get a plate per person of Tapas for free! I went with 4 other people so it was a great option as we got 5 different plates of tapas! And the drinks are a pint as well, you definitely get your money's worth out of it! Don't be put off by the mess on the floor, the messier the floor in a Tapas bar, the better it is!
A place for very affordable Sangria is Garbel! €2 for a large glass of Sangria and you get free potato chips too (not really that big of a deal after El Tigre, but hey, free is free!) The glasses are about ayeeee big (below, also I'm a sucker for Boomerangers) . . .
One place we stumbled upon by accident was the perfect place to re-live your childhood, or if you are a . . . I'm going to say big kid like Ross from "Friends", was a dinosaur bar called Diplodocus!
The drinks were just as big as dinosaurs, that is compared to the other glasses of the world! There were about 9 of us and we paid €30 for a massive vase shaped glass of Kalimotxo! This was definitely enough to share between us as a pre-drink, maybe one more if you really want to push your boundaries. The inside is very grundy but at the same time cosy! Highly recommend it for a place to start socialising and to grab a few drinks to share and maybe a game or two of "Never Have I Ever." Don't be the tough guy though and try to drink it yourself at the start of the night, you don't want to be this guy . . .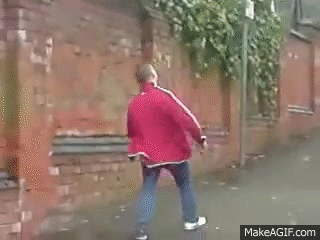 Then, handily next door, is Espit Chupitos! It's a fantastic shot bar with so many options of shots and all options are €2! There are plenty of options to get something lit on fire, for example your thumb like me! They coat your finger in alcohol, light it on fire, you have to quickly put the fire out with your mouth and then do the shot! First time I had ever done this, so was rather interesting! If you're not a fire bug like myself, don't worry there are many other options, where nothing is lit on fire, but where is the fun in that!
There was one really crowded bar that we went too. The prices of drinks were a little bit more than expected but it had a really cool 90s vibe to it! Felt like I was kid again, minus the many drunk people around me and the alcohol in hand, but you get the idea of the bar! So this was called Tupperware, it was about a 10 minute, give or take, walk from Espit Chupitos! Cool place, with lots of young people too!
There is a massive nightclub that I didn't get the chance to go to last time I was there, but it is called Kapital! Worth checking it out if you are after the super club feel!
The following day. . .
Sunday Flea Markets! (If it's a Sunday of course!)
The next morning we ventured out to the Flea Markets on Easter Sunday morning, surprisingly they were still on! We got there a little bit earlier than when they began (start at 9 am), so found a nearby cafe to purchase an espresso to wake us up from the night before! Martina Cocina was the name and it had great coffee and great little pastries too!
The flea markets were pretty cool, there were so many stalls with lots of little nick nacks, like jewellery, souvenirs, watches, and so much more! I found a reoccurring pattern of camo clothing and denim clothing! The amount of denim reminded me of this famous duo from back in the day. . .
#RIPJT&BRIT
Anyways, I do very much regret not getting myself a denim jacket. Don't let yourself walk away with regret, you do have room in your luggage and they were so affordably priced and really great quality.
Also, avoid the camo clothing tents, you don't want to be lost in the crowd with the jerk version of the invisibility cloak while travelling the streets of Madrid, or the rest of Europe for that fact!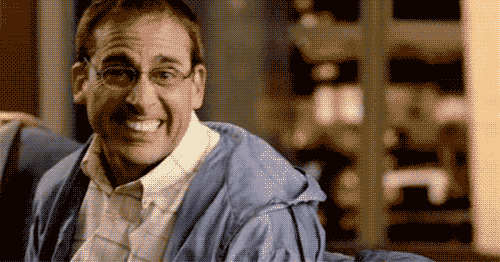 *Promise no more really, really bad jokes!*
Another awesome option for a different type of market is the Mercado de San Miguel, just next to Plaza Mayor! Warning, if you hate the smell of fish, do not go here, or just prepare yourself for the stench! (Noticed this due to my dislike of Seafood, yes I'm not a normal Aussie, its okay). Otherwise, there are some awesome food and drink options! For example both white and red sangria for about €4 (if you haven't noticed yet, I like my wine!)
Retiro Park
If you had a few drinks the night before, you are definitely going to want a bit of a lay down/time to relax. If you head to Retiro Park this you can do! It isn't as much as a massive open park, however you can definitely stroll around it for hours! There is a big beautiful area where you can see a perfectly manicured garden . . .
Or you can lay on the grass by the big pond in the middle and watch people do "strenuous" work of rowing boats around or you could join them if you really want too. Don't forget to take a picnic mat and pack a lunch too!
If it's overcast (which is highly unlikely in Madrid) or too much sun is your down fall Atocha Railway Station is where you can stroll around a tropical garden indoors! You can't take a nice picnic rug and sit on the grass, but if you are on a budget you could get a cheap sandwich and sit somewhere near the tropical garden!
The perfect view of the city . . .
El Corte Ingles, is a shopping centre with 9 floors and if you head to the very top you will find a food court but also, if you go out to the veranda you could get a great view over Madrid! The food court is a little bit more than what you would pay throughout the rest of Madrid, however you are paying for the view! I personally did this and the food was great!
Now there is definitely your art museums like the Golden Triangle, which is 3 art museums, that you guessed it, they are positioned to make a triangle. They are the El Prado, Reina Sofia and Thyssen-Bornemisza. You can get into the Prado Museum for free on Tuesday to Saturday from 6 pm to 8 pm, or Sundays from 5 pm to 8 pm and you can get into Reina Sofia Museum visit Monday to Friday from 7 pm to 9 pm, Saturday from 2.30pm to 9 pm, or Sunday from 10 am to 2.30pm.
If you are looking for a more Spanish cultural experience there is the Bullfighting ring called Plaza de Toros de Las Ventas and from May until October there is a Bullfight every Sunday afternoon! Madrid is the home of Bullfighting and is considered the heart of traditional Spain. You knew you made it as a Matador after you had a fight in this ring!
If bullfighting isn't your thing how about Flamenco dancing! There are some great options, my favourite is Corral de la Morería. There are no frills to it, like the emoji,💃 it is raw, traditional flamenco dancing and has been voted one of the best by many. It is a performance that everyone of all ages can appreciate!
Anyways, whatever you do . . . go to Madrid! It's not just the capital of Spain!